---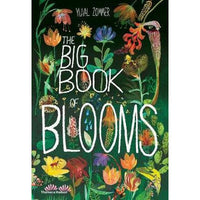 The Big Book of Blooms
Once Upon a Playroom
What does a venus fly trap eat?
How strong is a giant water?
Does a cactus flower?
The newest addition to Yumal Zommer's best selling series answers these questions and more as it introduces young children to all kinds of colourful, carnivorous, weird and wonderful flowering plants from around the world.  It opens with introductory spreads on how to be a botanist; how to recognise different types of flowers; the life-cycle of a plant; flower anatomy; and the seven types of animal pollinators including bats, birds and beetles.  Subsequent spreads, illustrated with various habitats, are dedicated to specific varieties of plants, including the carnivorous venus fly trap, the giant water lily and the weird and wonderful corpse flower.  Readers will enjoy learning about different edible flowers and why flowers are fragrant or colourful, not to mention grisly details about carnivorous and poisonous flowers.
Hardback
Would you like your order professionally gift wrapped? Leave a note in checkout with any wrap requests or special notes you would like to add to a gift tag... and we can take care of it for you!