---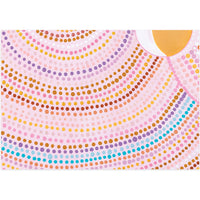 Folded Wrapping Paper - Seven Sisters Dreaming III
Earth Greetings
Eco-friendly, 100% recycled, Australian made wrapping paper.
Your gifts will look too good to unwrap with this Earth friendly wrapping paper featuring artwork by Indigenous artist, Natalie Jade.  This wrapping paper has been folded to 175mm x 250mm.  Flat size when unfolded is 500mm x 700mm.
Features:
Folded size 175mm x 250mm
Unfolded size 500mm x 700mm
Australian designed & made
Vegetable based ink
100% recycled paper
About the artist
Natalie Jade is an Australian artist with Indigenous (Palawa) roots that express themselves through their artwork.  Natalie was born into a family where "paint runs through their veins".  She believes art is a journey of self discovery and expression.  "The purpose of my art is to create something beautiful that has a vibration through the colour and forms, to uplift others and their surroundings."
Kindness to our planet
Printed in Australia with vegetable based ink & made from 100% post-consumer waste.  Carbon offset with our donation to the Yarra Yarra Biodiversity Corridor.  Over 10% of profit from every piece of wrapping paper sold is donated to care for native wildlife & restore habitat.
How to dispose
Wrapping paper can be recycled or home composted.